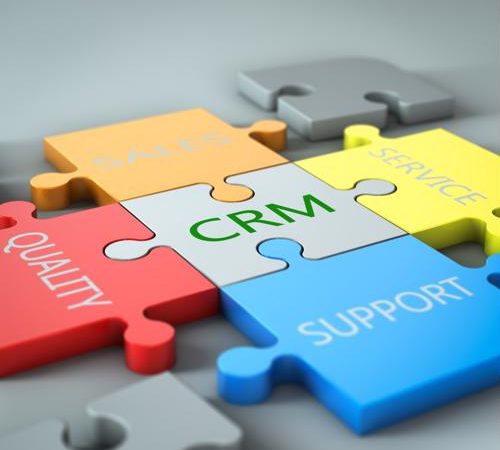 Smartphones are sometimes referred to as digital Swiss Army Knives because of their versatility. They combine numerous features that just a decade ago would have required multiple discrete devices, such as digital cameras, tape recorders and dedicated MP3 players. Today's contact centers are on evolutionary path similar to the one phones traversed in the late 2000s, with many new capabilities being added each year.
Contact center plus CRM: The new dynamic duo for multichannel communications
The fusion of contact centers and customer relationship management (CRM) solutions demonstrates how modern contact centers have progressed far beyond the call centers of old. CRM software like Salesforce is essential for documenting each contact's history and making that information readily available to agents. Accordingly, it's a natural fit for the multifaceted contact centers, with which it now shares features such as:
Automation of applications such as call distribution, as well as the use of AI-enhanced chatbots that help route customer requests.
Cloud-based deployments that require less technical maintenance by IT since they are automatically patched and updated to the latest release.
Customer journey data charts, showing the timeline of a caller's interactions from the beginning to the present moment.
The line between the contact center and CRM is blurring, although it was never all that sharp to begin with. However, not all organizations are seeing the benefits of this growing synergy yet. Their reliance on older disparate technologies means that they may struggle to realize productivity gains and to avoid unnecessary expenses throughout their contact centers.
"The line between the contact center and CRM is blurring, although it was never all that sharp to begin with."
The credit union example: When poor contact center integrations take a toll
A 2018 survey by KIVA Group, a CRM provider for the financial industry, found that a lot of credit unions are simply layering new call center technologies on top of legacy processes, creating a hodgepodge of tools that consistently frustrates teams. More specifically, agents are overwhelmed by the everyday tasks of having to hunt for up-to-date information and juggle multiple systems.
For example, 80 percent of the 131 respondents to the survey reported they lacked access to single sign-on solutions that would streamline the use of common apps tied to their company credentials. Plus, a majority of these credit unions were not prioritizing agent engagement within CRMs, despite the overlapping and complementary functionalities of these tools and contact center solutions.
The study also projected a rise in contact center staffing for the third consecutive year. This might seem like an innocuous data point, but it speaks to the inefficiencies in many facilities. Without fully integrated systems, more personnel might be required to keep up with the large volumes of callers.
Improving contact center performance with connectors and integrations
The contact center should never be an island, if only because customers now have so many channels through which they can reach the typical organization. Instead, it should provide crucial features such as inbound inquiry capture, CRM integration and real-time agent access to enterprise and cloud data sources. Empowered agents with a full picture of each caller at their fingertips will be more happier and more productive
The Teo Unified Communications Contact Center can be connected to your existing CRM or paired with a new one built to your specific requirements. Plus, its overall architecture is designed to interface with all of your key systems, both old and new. Via its cutting-edge middleware, it can be integrated with inherited legacy infrastructures, corporate databases and company messaging platforms, putting it right at the heart of your interactions with your customers across all communications channels.
How does this integration look in action? Consider the functionality of the Teo CRM Connector, which provides:
Click-to-dial functionality from directly within the CRM.
Selective match (aka smart caller ID) of user profiles after initial identification.
Automatic call logging.
Screen pop-ups containing CRM records on callers.
CRM's importance to the contact center will only grow with time, as applications like VoIP, chat and video conferencing widen the range of possible interactions while demanding an accurate system of record. Contact Teo today to learn more about our UC solutions.