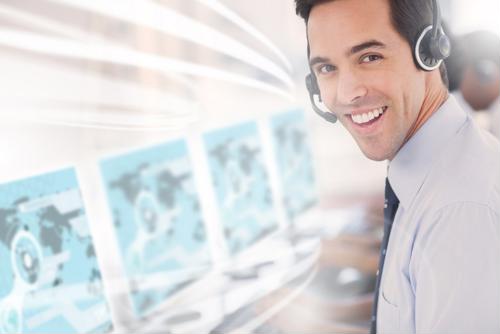 In the current connected age, consumers have more than a few choices to interact with a brand and learn more about its offerings and services, and most of these avenues are accessible right at their fingertips. From social media, to dedicated websites, to live chat and VoIP calling, touchpoints are now more important than ever to the customer journey.
The numbers are in
This isn't just an opinion – according to recent research from McKinsey, consumers are more likely to engage and purchase from a brand that provides multiple touchpoints across their journey. Businesses with fewer touchpoints were shown to have lower levels of engagement as well as conversion.
"Consumers are more likely to engage and purchase from a brand that provides multiple touchpoints."
"[C]ompanies with more digital capabilities across channels are able to convert sales at a rate 2.5 times greater than those with fewer touchpoints," Econsultancy contributor Luke Richards wrote, reporting on the McKinsey findings. "These brands are also seeing more positive word-of-mouth online due to their larger multichannel footprint."
In this way, an omnichannel strategy that includes numerous areas for your customers to interact with your brand isn't just a luxury anymore – this type of multi-touchpoint strategy is now essential to the success of your company in the current marketplace.
What's a touchpoint?
The vast majority of today's brands already have a multi-pronged approach to presence, both online and offline. As SurveyMonkey explained, anytime a consumer comes in contact with your brand – be in through an advertisement, social media comments, your website, or a brick-and-mortar location – this connection is considered a touchpoint in their customer journey. Touchpoints span the entirety of the consumer lifecycle, including interactions with the brand before, during and after a purchase.
All kinds of different platforms, marketing materials and communications systems can be included in customer touchpoints. Some of the most common include:
Before a purchase:
Social media
Online reviews or customer testimonials
Digital or print advertisements.
Other marketing/PR materials.
During a purchase:
Brand website.
Brick-and-mortar store location.
In-person or online interactions with your sales team or customer service staff, including via unified communications systems like chat, VoIP and video conferencing.
Point-of-sale system.
After a purchase:
The brand's billing department.
Thank you messages and other follow-up communications from the brand.
Customer service contact center.
These are some of the most popular customer touchpoints, but this is by no means an extensive list. Your organization may have had success reaching shoppers with coupons or other offers, via a branded mobile app or through in-person meetings at a conference or other event. All of these touchpoints should be considered when companies look to create a cohesive touchpoint strategy and improve the overall customer experience their business is able to provide.
Touchpoint mapping: Tips and best practices
An important step to enhancing the types of connections your customers have with your brand is to outline the touchpoints shoppers interact with during their journeys. This touchpoint map can then serve as a guide for improvements, wherein the marketing and customer service teams can ensure that each touchpoint supports a certain part of the journey and a specific purpose.
Once you understand the different touchpoints your customers leverage, it's time to map these in chronological order. In this way, stakeholders will be able to see the path that customers took to conversion and repeat sales, as well as other paths that might have resulted in page or cart abandonment.
As marketing firm Spectrio noted, touchpoints often revolve around customer journey steps like brand awareness, encouraging interaction, initiative sales, and urging repeat sales. It's important to remember here that mapping won't just result in a single path, and consumers may take different routes to become aware of and complete a transaction with your brand. In this way, it's helpful to create four or five different maps that demonstrate the most common paths customers take.
Improving customer touchpoints
There are a variety of ways to enhance customer interactions using your touchpoint mapping information. First and foremost, it's important to study both negative and positive patterns – mapping may show that a considerable percentage of customers that find out about the brand via social media, and follow a link to a specific landing page on the brand's site end up converting. On the other hand, research may also show that additional touchpoints or materials are needed to bridge a customer's journey from the website to conversion – in these instances, it can be helpful to lead shoppers to a video, informational graphic, an ebook or even the customer service center to provide another, valuable touchpoint while avoiding abandonment.
Overall, a critical part of any brand's touchpoint strategy is its unified communications system, particularly the solutions that are customer facing. Including easily accessible live chat or a link to the contact center on the website, for example, can offer just the support a consumer needs to convert. Allowing shoppers to seamlessly reach out to the company to get their questions answers and concerns quelled is imperative – and successful consumer interactions supported by UC technology can even serve as a critical differentiator in highly competitive markets.
To find out more about how your UC system fits into your customer touchpoint strategy, connect with the experts at Teo Technologies today.