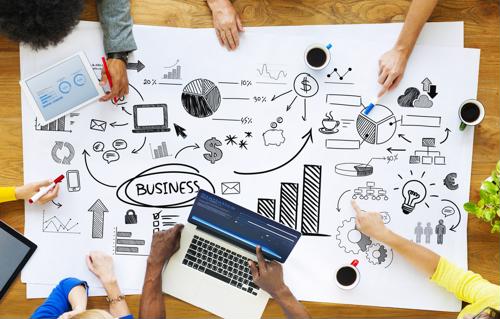 In today's business environment, it seems like anyone with a good idea and a little capital can go a long way. While this isn't always true, small companies and startups in particular have carved their own important niche in the overall corporate community.
When it comes to launching a startup, there are a few key things to understand and consider. Technology, especially, should be at the top of the priority list, as robust and innovative solutions can make the difference between a business that survives and prospers, and one that closes its doors.
The current startup environment
Thanks to advanced IT solutions and other beneficial resources, there are now more opportunities than ever for individuals to become entrepreneurs and grow their own business. Consider the following statistics gathered by GoDaddy and Small Business Trends on today's startup landscape:
More than 60 percent of all U.S.-based companies are small businesses with fewer than five staff members, and nearly 70 percent of entrepreneurs start their endeavors in their own homes.
About 540,000 people start a business each month, although 50 percent tend to fail within the first five years due to incompetence, inexperience, neglect, fraud or disaster.
Despite these numbers, most individuals are in favor of entrepreneurship – 51 percent of people responded to the question, "What's the best way to learn more about entrepreneurship?" with "Start a company."
More small businesses than ever are financially prosperous – more than 66 percent of small business owners expect increases in revenue within the next year, the highest level reached in the last nine years.
In this environment, while there are still risks for starting a small company, there are also considerable opportunities for success.
Startups have specific needs, especially when it comes to communications and technology.
Tech considerations: Questions to ask
IT systems form the backbone for the majority of today's businesses, both large and small. Entrepreneurs and startup leaders must put tech considerations front and center when launching their business.
Within this vein, there are a few important questions that startup stakeholders should ask themselves, ahead of choosing their IT solutions:
What are our most important technology needs? First and foremost, decision-makers should think about the most critical functions and features that their technology solutions must support. Much of this will be informed by the type of business, the sector it operates within and the services it offers. Additional aspects including employee working styles should also being weighed here. And, as MyCorporation contributor Teddy Hunt pointed out, it's important to think about the future – but don't get ahead of yourself.

"[It can be] tempting to start buying tons of equipment that you don't actually need right now in the hopes you'll use it in the next five years," Hunt wrote. "By the time you reach that time frame, the technology will cost so much less. Prioritize your startup's needs so you can focus on what technology will help you meet your current goals."

What kind of tech budget do we have? It's also imperative to consider the types of financial resources the business has to support its tech needs. Certain, more advanced systems might not fit into the budget right now, and funds must be allocated to essential IT needs like network support, communications, critical software and endpoint devices.
Can certain tech needs be outsourced? In today's IT service environment, many critical systems and processes are now being offered through outsourced or as-a-service options. This enables businesses to take advantage of the cloud and other advanced delivery systems in a more cost-efficient manner.
What kinds of IT systems are must-haves?
While the list of IT solution essentials will vary from startup to startup, there are a few key items to consider when it comes time to invest in and deploy your company's tech. These include:
Network support and WiFi: This one's a biggie. Your organization must have network support in order to utilize essential software, applications and communication technologies. This includes physical or cloud server environments to enable internal infrastructure, or as-a-service options to ensure that you and your workforce has the connectivity you need.
Data storage and security: You'll also need a place to securely store the information assets you have, will create and utilize for daily operations. Particularly in today's business environment, where there's an increased focus on data and analytics, it's imperative to be able to store and access your company's critical information. Security is also paramount. Even small companies have become targets for cybercriminals, so it's important that businesses have access controls and protections to prevent unauthorized access.
Critical software: Certain, essential businesses processes are best completed with the help of robust software. Considerations to make here include accounting software to manage accounts, cash flow, income and expenses. In addition, corporate staples like enterprise resource planning and customer relationship management solutions may also be required.
One of the most pressing top IT priorities encompasses the ways in which your staff members will connect, communicate and collaborate with each other. For these reasons, more startups and small businesses are investing in unified communication systems that can ensure that even geographically-separated workers can reach out to each other and maintain productivity.
Unified communications are unique in that they are highly customizable – these aren't just one-size-fits-all systems, but a suite of integrated solutions that meet the company's communications and collaborations needs. Some things to consider right off the bat include:
High definition voice and video, including VoIP and conferencing solutions.
Instant messaging and presence capabilities.
Collaboration features like screen and file sharing.
Email integration, voicemail and fax options.
Mobility support for smartphones, laptops and tablets.
As the business grows, additional solutions like CRM integration and even contact center systems can be added to align with expanding corporate and customer needs.
When it comes time to put UC tech in place, it's best to navigate the processes of selection, integration and deployment with the help of an expert. Teo Technologies has been a leader in the UC space for years, and has the expertise to support small business and startup needs from day one, all the way through the business lifecycle.